A valuable experience for young JamSchool singers!
Wednesday, October 24, 2018 by Dan Drysdale | Uncategorized
JamSchool voice students have had some great performance opportunities over the past few years but we are definitely ramping things up for 2018/2019.
Take for instance, our senior vocal a capella group, Feedback, who will be playing a show with the Philosopher Kings at River Run Centre on November 8. Nice gig! We are currently auditioning for a tenor and a bass for this group. Let us know if you are interested!
Last year, we decided we wanted a similar option for younger JamSchool singers. Enter the JamSchool Junior Vocal Group.
Junior Vocal Group
This small vocal group will concentrate on a modern approach to group singing
They will be working on intricate arrangements of top 40 repertoire
Do I Qualify for This Group?
Are you between 12 and 15 and have a solid sense of pitch and rhythm?
Do you have a positive attitude and a good work ethic?
If you answered yes to the above two questions, see below!
Auditions
Please call the desk or email dan@jamschool.com to book and audition
We will reply with an audition appointment and a list of material for you to prepare

please see the audition details at the bottom of this message

Your voice teacher can help you prepare the audition
Please keep in mind that we will have more applicants than we have space for and not everyone will be able to join.
Going through an audition process is a great experience for young performers!
Prepare!
Best advice is to be very prepared for the audition

Lyrics memorized
Songs and technique well rehearsed
Know your stuff!
What To Gain
Learn valuable skills such as blending, rhythm, harmonies and performance
Great opportunity to make new friends
Many performance opportunities throughout the year including JamSchool shows and community events
Rehearsal Times
This group will be rehearsing Saturdays at the Alice Street location from 1 pm until 2 pm starting in November.
Members will need to commit to making rehearsals as well as performances.
Members will need to commit until the JamBoree at Guelph Little Theatre in June.
Cost
For students taking just the Junior Vocal Group with no private class the cost will be $125/month
For students already taking voice classes the group class will cost $106/month
Please get in touch with the desk to book an audition.
Thanks,
Dan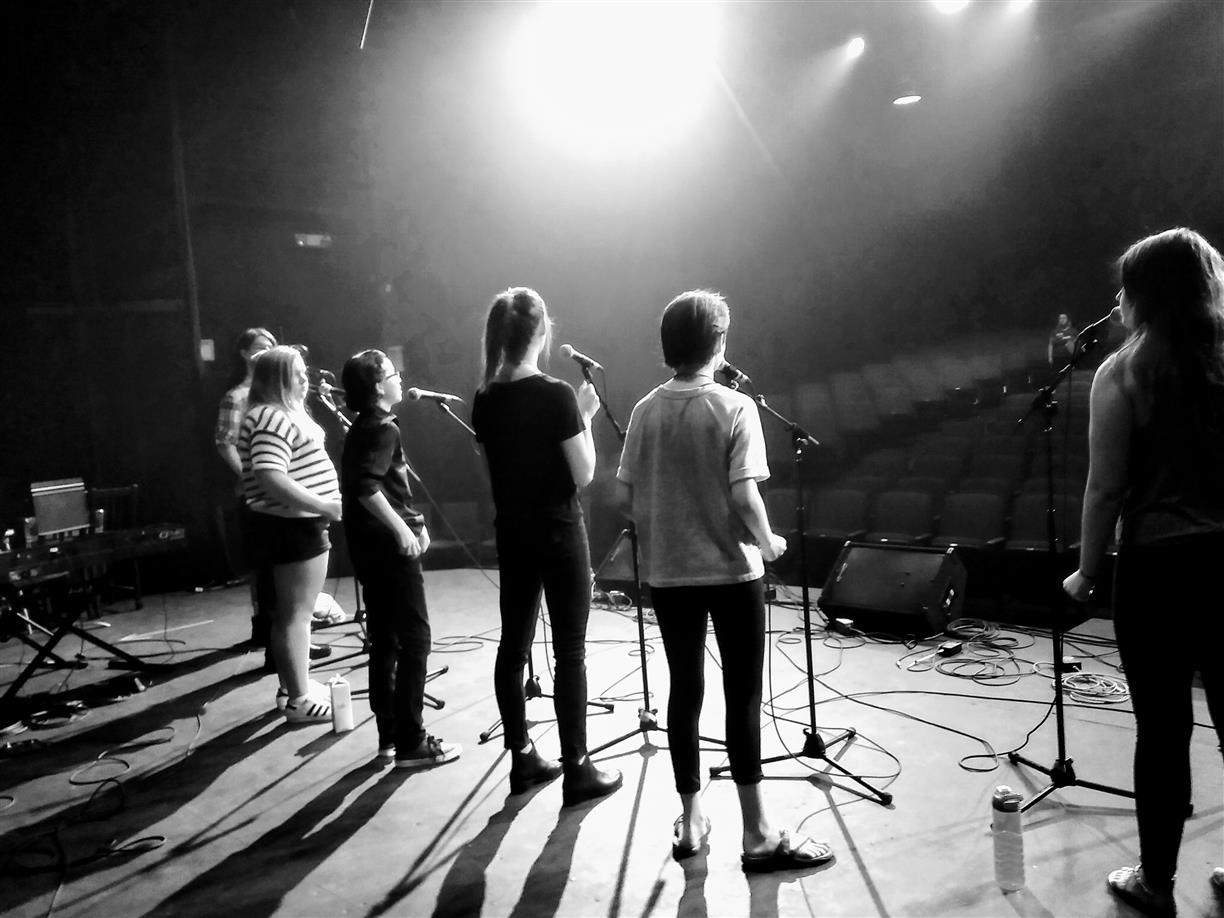 Junior Vocal Group Audition Details - ask your voice teacher for help with this
1. Range Test
The candidate will be guided through an exercise to find her or his highest and lowest singing notes.
2. Prepared Song
The candidate must prepare one song of her or his choice to sing for the panel. Accompaniment is allowed in the form of an instrumental track (i.e. no lead vocals on it, back-up vocals are ok) where the candidate provides their own media player, e.g. a cell phone or iPod. If singing a cappella (without accompaniment) the panel will provide the starting note and/or key as requested by the candidate, which we highly recommend the candidate be prepared to give. For the sake of time, the panel may stop the singer after 60 seconds.
3. Ear Test
The panel will play a series of harmonic intervals (two notes at the same time) on the keyboard, and the candidate will be asked to sing/hum either the higher or lower note.