JamSchool's Feedback performing at a Guelph Storm Game Feb 14
Tuesday, January 28, 2020 by Dan Drysdale | Uncategorized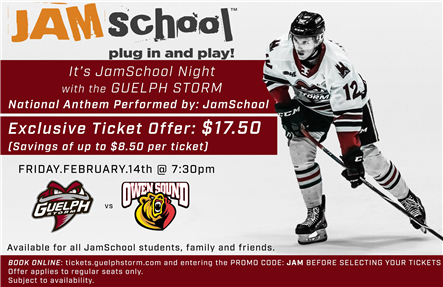 JamSchool is recruiting for our band program!
Wednesday, August 28, 2019 by Dan Drysdale | Uncategorized
Hello!
The JamSchool Band Program is busier than ever with shows booked for every month of the upcoming 2019/2020 season. We would like to get even more musicians involved in this program!
We have openings for guitar, bass, drums, vocals and keyboard in some of our bands and we are building new bands that we would like to start in September.
If you are ready for the next step in your development, please let us try to find a good band for you to join.
Call 519-763-8526 or email dan@jamschool.com
Here are some details that band attendees and parents will need to know:
Cost
Band/Group Class (**if taking at least one private lesson at JamSchool): **$106 month (weekly 1hr classes)
Band/Group only student: $125 month (weekly 1hr band classes, Band Only: If not taking any other private or group lessons at JamSchool)
All band/Group classes include up-to 12hrs of self-directed rehearsal time (per band) at JamSpots – a $300 value
After the first month with the band/group, the student is committed to the band/group program until June 30.
Band Class Attendance
Please do your best to attend every week, especially when preparing for a show
You are able to cancel your attendance to a band class but no makeup credit will be issued unless the class is cancelled by the school (bad weather) or by the teacher
The band members need to make themselves available for some performances throughout the year, typically Saturdays
Be Prepared
It is expected that every player in the band learn their parts independently
The band leader is there to teach the group as a whole, so there will be less one on one attention than you would receive in a private class
After the parts have been assigned, it is expected that each player work on their part at home
Don't let your team down, practice your parts!
It is recommended that the student continue with private lessons when joining a band class. Group experience and live performance is supplemental to individual skills acquired through private lessons and will reinforce lessons learned.
Performances
JamSchool runs shows every month
All JamSchool shows are free to attend with two exceptions:


JamSchool Holiday JamBoree (December): Please bring a donation for the Guelph Food bank
JamSchool JamBoree (June) - this is a ticketed event held at the Guelph Little Theatre and Hanlon Creek Cafe

Band classes tend to play at 3 or more shows in a school year
Venues include: Royal Electric, Red Papaya, Sip Club, Guelph Little Theatre, Hanlon Creek Theatre, Gainfest, Guelph Multicultural Festival, Hillside Festival and others
Please make yourself available for the shows that the band commits to
Please make sure to show up at the correct call time
Communication
Keep up to date with performance opportunities and other events by accessing your online portal
Talk to your band leader once a month
Call the desk with any questions 519-763-8526
JamSchool Bands and teachers at the Hillside Festival
Feedback - Auditioning for new members
Tuesday, August 27, 2019 by Dan Drysdale | Uncategorized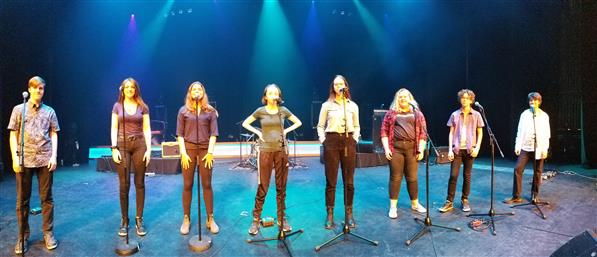 Feedback at River Run Centre - opening for Philosopher Kings on November 8 2018
JamSchool is opening auditions for new members for our a cappella group FEEDBACK.
Please get in touch to book an audition.
519-763-8526
info@jamschool.com